Hoisting Wire Rope for Elevator (SN-WR Series)
2021-04-25
Elevator
Steel Wire Rope
(SN-WR series)
Model Name: SN-WR series
========================================
Description of Elevator steel wire rope
ISO 9001-2008 Quality System Assessment
1. Raw material: Quality carbon steel
2. Standard: ISO, DIN, ASTM, JIS, etc.
3. Construction: 1X7, 8X19, 6X7, 7X7, 6X19, 7X19, 6X37, 7X37, 6X25, etc.
4. Range of products: High carbon spring steel wire, (Galvanized, Ungalvanized, coated PVC /PE) steel wire rope, hot DIP galvanized steel wire rope, etc.
5. Packing: Plastic spool, wood reel, coils, bag, etc.
6. Minimum order quantity: 10 tons
7. Delivery time: 35 days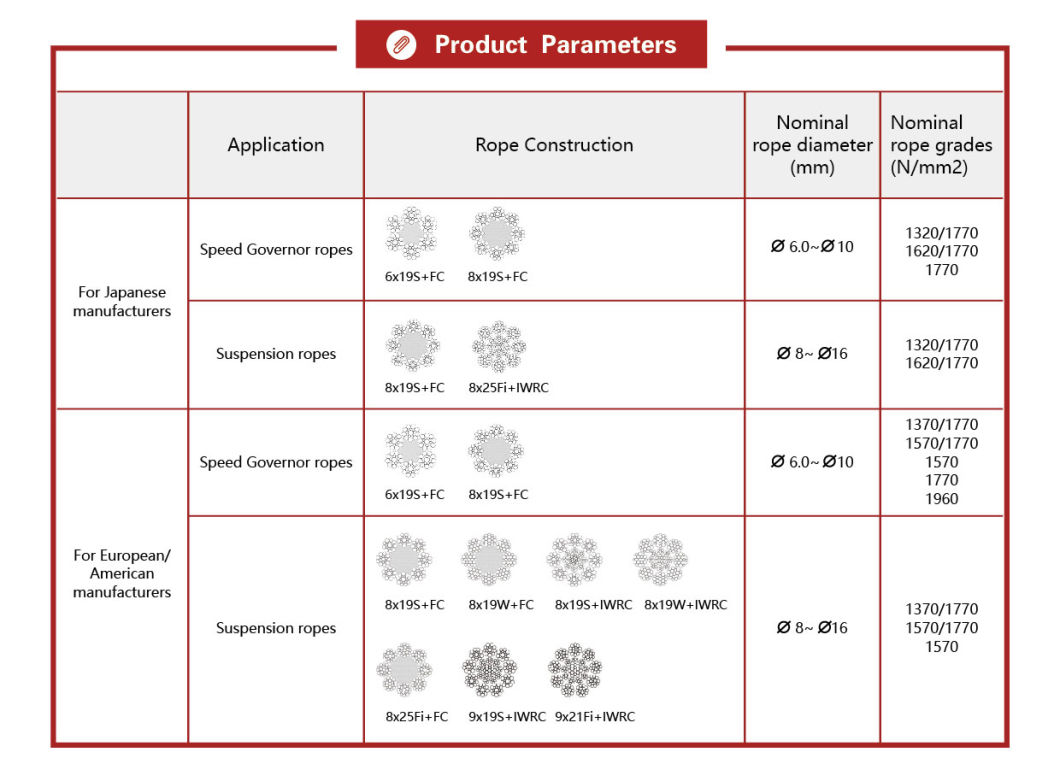 =============================================
About us
Shanghai Sunny Elevator Co., Ltd, is located in Shanghai China. We are a 22-year professional manufacturer specialized in designing and producing elevator parts with ISO9001 certification. We have fine quality management team and always offer our clients high quality and reliable products. Our turnover in 2013 is 5, 000, 000 USD.
We offer 3 year quality guarantee for all products. Our main products are: Traction Machine, Elevator Display, Elevator Light Curtain, Elevator Buttons, Photoelectric Switch, COP & LOP, Door Mechanism. And we provide best prices on: Guide Rail, Guide Shoe, Counterweight Filler, Rope fastening, Wire Rope, Safety Gear, Speed Governor, Oil Buffer, Maintenance box, Emergency leveling device, Elevator Intercom, Limit Switch, Fans and other parts for elevator.
Our long time clients include Hyundai (served as OEM), Hitachi, Otis, Mitsubishi, KONE, Guangri Elevator, WITTUR elevator etc.
Elevator Fixtures, Elevator COP, Elevator Car Operating Panel, Hall Fixtures, Position Indicators, Hall Lanterns, Swing Return Panels, Swing Return Fixtures, Pre-Wired Elevator Fixtures, Custom Elevator Fixtures, Emergency Lighting, Key Switches, Fire Key Switch, Elevator Buttons, Elevator Push Buttons, Serial Wiring, Serial Fixtures, Car Stations
OTIS Elevator COP LOP HPI, Thyssen Elevator COP LOP HPI, KONE Elevator COP LOP HPI, GiantKONE Elevator COP LOP HPI, ThyssenKrupp Elevator COP LOP HPI, Schindler Elevator COP LOP HPI, XJ Schindler Elevator COP LOP HPI, Xizi OTIS Elevator COP LOP HPI, Mitsubishi Elevator COP LOP HPI, Shanghai Mitsubishi Elevator COP LOP HPI, Fujitec Elevator COP LOP HPI, Hitachi Elevator COP LOP HPI, Toshiba Elevator COP LOP HPI, Hyundai Elevator COP LOP HPI, LG Elevator COP LOP HPI, Sigma Elevator COP LOP HPI, Express Elevator COP LOP HPI, GUANGRI Elevator COP LOP HPI, FUJI Elevator COP LOP HPI, BLT Elevator COP LOP HPI, CANNY Elevator COP LOP HPI, SJEC Elevator COP LOP HPI, KOYO Elevator COP LOP HPI, IFE Elevator COP LOP HPI
OTIS Elevator HALL LANTERNS, Thyssen Elevator HALL LANTERNS, KONE Elevator HALL LANTERNS, GiantKONE Elevator HALL LANTERNS, ThyssenKrupp Elevator HALL LANTERNS, Schindler Elevator HALL LANTERNS, XJ Schindler Elevator HALL LANTERNS, Xizi OTIS Elevator HALL LANTERNS, Mitsubishi Elevator HALL LANTERNS, Shanghai Mitsubishi Elevator HALL LANTERNS, Fujitec Elevator HALL LANTERNS, Hitachi Elevator HALL LANTERNS, Toshiba Elevator HALL LANTERNS, Hyundai Elevator HALL LANTERNS, LG Elevator HALL LANTERNS, Sigma Elevator HALL LANTERNS, Express Elevator HALL LANTERNS, GUANGRI Elevator HALL LANTERNS, FUJI Elevator HALL LANTERNS, BLT Elevator HALL LANTERNS, CANNY Elevator HALL LANTERNS, SJEC Elevator HALL LANTERNS, KOYO Elevator HALL LANTERNS, IFE Elevator HALL LANTERNS
OTIS Elevator FIXTURES, Thyssen Elevator FIXTURES, KONE Elevator FIXTURES, GiantKONE Elevator FIXTURES, ThyssenKrupp Elevator FIXTURES, Schindler Elevator FIXTURES, XJ Schindler Elevator FIXTURES, Xizi OTIS Elevator FIXTURES, Mitsubishi Elevator FIXTURES, Shanghai Mitsubishi Elevator FIXTURES, Fujitec Elevator FIXTURES, Hitachi Elevator FIXTURES, Toshiba Elevator FIXTURES, Hyundai Elevator FIXTURES, LG Elevator FIXTURES, Sigma Elevator FIXTURES, Express Elevator FIXTURES, GUANGRI Elevator FIXTURES, FUJI Elevator FIXTURES, BLT Elevator FIXTURES, CANNY Elevator FIXTURES, SJEC Elevator FIXTURES, KOYO Elevator FIXTURES, IFE Elevator FIXTURES
Elevator Fixtures
,
Elevator COP
,
Elevator LOP
,
Elevator HPI
,
Elevator Push Buttons
,
Elevator Hall Lanterns
Yineng Elevator Co., Ltd. http://www.zjelevatorcontrolsystem.com